Chad Green didn't care one bit about what he had heard about nitrous cars trying to compete at Bandimere Speedway.
He had his DRAG ILLUSTRATED World Series of Pro Mod invitation in his hand and nothing was going to keep him from accepting. A year ago, while watching the inaugural event just outside of Denver, Green wondered how he could ever get opportunity to race in the $100,000 winner-take-all race.
So when Drag Illustrated Founder and Editorial Director Wes Buck hand-delivered his WSOPM invitation at the NHRA race in Topeka, Green was blown away – and also had his answer ready.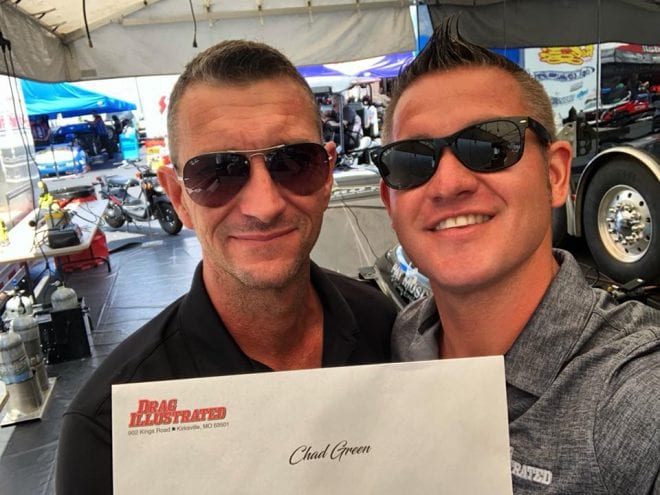 "To get an invitation, I don't know even how to describe it," Green said. "It's such an honor and I didn't think twice about it. For me, it was a no-brainer. Everyone says the nitrous car won't do well at altitude, but we'll see what we can do. It's just an honor to be invited to a race like this. I was not going to turn it down."
It's the latest accomplishment in what has become a brilliant rookie season for Green, even after overcoming some significant adversity in his NHRA Pro Mod debut at Gainesville.
He advanced to the semifinals in impressive fashion before disaster struck, crashing nose-first into the wall in his matchup against Mike Janis. How quickly Green bounced back has been just as remarkable, as Green got a new Camaro from Jerry Bickel Race Cars and didn't miss a race.
He qualified No. 1 and advanced to his first career final round before losing to Rickie Smith in Topeka, and currently sits fourth in points.
Read More